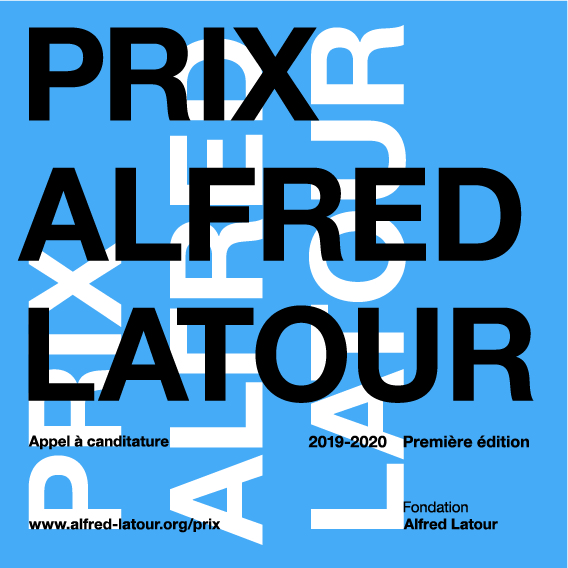 Following the exhibitions held in the spring of 2018 in Arles and Eygalières and the release of two books published by Actes Sud on the subject of Alfred Latour, the Alfred Latour Foundation and Actes Sud Books launched the Alfred Latour Prize to celebrate the arts of painting, engraving, design, graphic design and photography.
The goal of the prize is to allow the winner to bring an original project to its completion in the publishing of a book — the launch of which brings an end to the artist's involvement. It constitutes a rewarding of the realization of the artistic experience. Thus, the originality and sense embodied in the published work is central to the prize's aims. The art of the book is what the prize celebrates. The work will be released a year following the award.
The prize recognizes the value of a project by a young but known artist at the beginning of their career. It celebrates artists active in similar fields to those undertaken by Latour himself and focuses on the translation of their art into book form.
The winner will receive a creative bursary of CHF 20,000.-. They undertake to deliver all the elements necessary to the publication (editorial concept and integral mock-up) in the nine months following the prize. All these elements are delivered free of rights. Financial support for the manufacture of the book in the sum of a maximum of CHF 60,000.- will be provided by the two partners according to their determination as to how it should be spent.
Two further prizes of CHF 5,000.- each will be awarded to outstanding projects.
Candidates can enter their applications between 1 January 2019 and 15 April 2019.
The jury chooses the winner and declares the competition results on 1 September 2019. The winner will deliver all elements necessary to publication by 1 June 2020. The work will be launched to the press and available in book shops in September 2020.
The prize is to be awarded once every two years.
CANDIDATES
The Alfred Latour Prize is aimed at artist who have taken part in a number of collective exhibitions and who have benefited from at least two personal exhibitions in recognized galleries or cultural institutions (those which regularly hold exhibitions in the relative field, and which employ a qualified commissionaire). The candidate should be recognized at the national level.
Candidates :
Should be European residents.
Must have French as their language of communication.
Must be sponsored in their field by two recognized authorities (gallery owners, critics, museum directors, known artists and/or university or art school professors), but not by a jury member.
Important: candidate dossiers must be in French.
Candidature dossiers should be sent to the following address:
Fondation Alfred Latour

Place du Nord 2

1005 Lausanne

Suisse
Any incomplete dossier or one not respecting the stipulated format will not be considered.
Reception date: Candidatures can be submitted from January 2019 to 15 April 2019
CALENDAR
1 January 2019, Opening of candidature applications
15 April 2019, Closing of candidature applications
1 September 2019, Announcement of first prize winner along with the two accompanying bursaries / press conference
June 2020, Delivery by the candidate of all elements of the projects to be included by the editor.
1 September 2020, Publication of the work
JURY
The prize jury comprises:
Anne-Sylvie Bameule, Director of the Art, Nature & Society department at Actes Sud, Arles
Miquel Barcelò, painter, draughtsman, sculptor and potter, Majorca / Paris
François Hébel, Director of the Cartier Bresson Foundation, Paris
Werner Jeker, Graphic designer, Les Ateliers du Nord, Lausanne
Christian Lacroix, fashion designer, costume designer, illustrator and designer, Paris / Arles
Remove the row
Column: 1